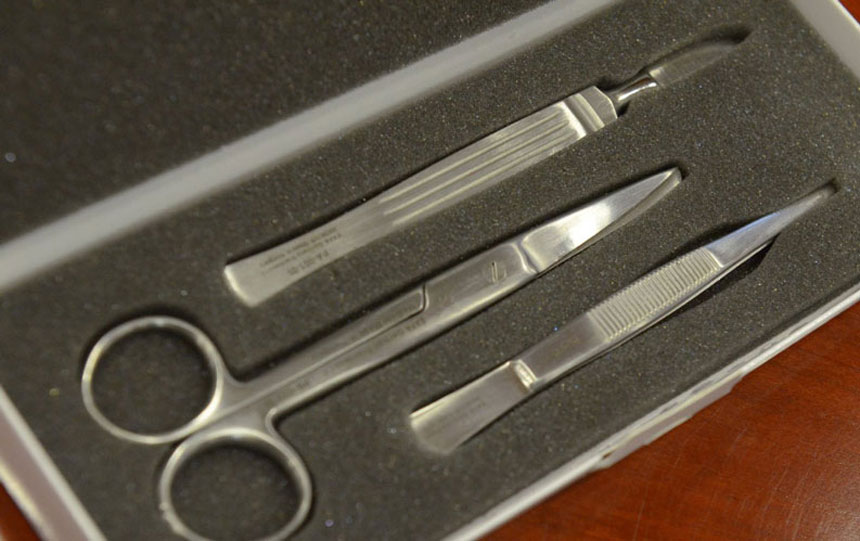 All first semester students of the degree program of medicine and dentistry at the University of Debrecen will get free quality instruments, which are required for the anatomy and pathology classes. The instruments are sponsored by Medicor Hand Instrument Ltd.
The company, which sponsored the hand instruments for the first-year students, is situated in Debrecen and is a company producing up-to-date medical hand instruments. The company has supported first-year medical and dentistry students of the Debrecen University for many years now. This year, 650 students will receive this set, including a scalpel, forceps and scissors – the agreement between the company and the university was signed recently on February 16th.
"The University of Debrecen is one of those institutions where students still get a chance to conduct their anatomy and pathology practices on human bodies. Thanks to this cooperation, each one of our Hungarian and international freshers can get the necessary instruments for free," said László Mátyus, Dean of the School of Medicine.
Medicor Hand Instrument Ltd. has also supported the third-year students by providing instruments that are required for acquiring surgical techniques for many years. At the same time, they have been involved in the development of new and innovative instruments in the medical field, cooperating with urology and orthopedic specialists.
"Complying with the demands, we are currently working on designing a special instrument for wound exploration together with the experts of the University of Debrecen, and we have also assembled the practice sets for freshers on the basis of the feedback we have received from the students. What is more, we have also made an offer to them according to which they may follow the production process of these almost exclusively handmade steel instruments from the beginning to the end at our production plant in Debrecen," said Péter Nagy, the CEO of Medicor.