Cluj-Napoca – Facts and Figures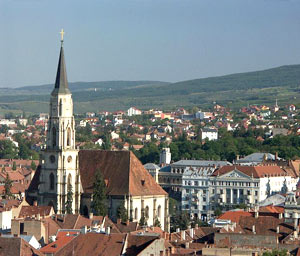 Cluj-Napoca (Kolozsvár in Hungarian and Klausenburg in German) is the largest city in Transylvania, with over 380,000 inhabitants, and one of the most important cities in Romania. The city's three names, mentioned above in Romanian, Hungarian and German, are a reflection of the cultural, ethnic and religious diversity found in the city and in the region of Transylvania.
The first archaeological traces date back to the beginning of the Neolithic period. Scientific evidence indicates that the ancient settlement of Dacia became an important city within the Roman Empire. The city of Cluj-Napoca was granted the status of municipality in 124 B.C.
In the 11th century, the city was incorporated into the Hungarian Empire and was renamed Kolozsvár. This name appeared for the first time in a document written in the year 1177. In the 12th century, King Geza II of Hungary invited German colonists from the valley of the river Rhine to Transylvania in order to strengthen and protect the kingdom's western border against attacks from nomadic tribes from Asia. This German settlement marked the beginning of a strong German influence in the region. In 1316, Cluj was granted the status of "civitas". Medieval Cluj (Claudiopolis in Latin) developed very quickly, becoming an important cultural, economic and spiritual centre.
In 1550 Heltai Gáspár created the first printing press and in 1580 the university was founded by Jesuits. The university's first three faculties were the Faculty of Theology, the Faculty of Law and the Faculty of Philosophy. The Cluj Fortress was built during the 15th and 16th centuries, with over 200 towers and bastions. In 1790 Cluj became the capital of Transylvania. The introduction of the railway in 1870 led to a rapid development of the city and its industry. In 1918 the Habsburg Empire disintegrated following defeat in World War I and Transylvania became part of the so-called "Greater Romania". The Superior Dacia University was founded in 1919 and consisted of four faculties: the Faculty of Sciences, the Faculty of Medicine, the Faculty of Law and the Faculty of Arts. The first Institute of Speleology in Cluj was founded by Emil Racovita in 1920, and in 1921 Alexandru Borza opened his famous Botanical Garden.
The city's name was changed to Cluj-Napoca in 1974. Now, the city combines modern and medieval architecture and its historical remains have become popular tourist attractions, serving as proof of the fact that the city has existed for over 2,000 years. The modern city of Cluj-Napoca has a rich cultural life and, with over 100,000 students enrolled in 8 universities, it is often described as a true university town.