St. Marina University Hospital
The University Hospital of Varna is the largest hospital building for therapy, consultation and diagnosis of the whole country. It offers healthcare services to the citizens of Bulgaria.
The Hospital provides the students with many lecture rooms which enable the future doctors to combine theoretical and practical education. During the breaks between the lessons, the students can use the electronic library of the Hospital.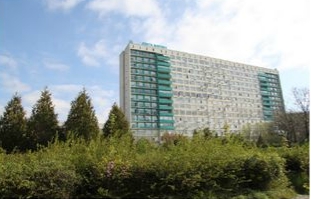 The St. Marina University Hospital has one of the  most modern and specialized equipments in the country (Gamma Camera,  Magnetic Resonance Imaging, PET CT cyloclotron, CT Dual Score), enabling the application of the latest therapeutic and diagnosic techniques. At the clinics of the hospital, the future doctors gain the experience of  high qualified medical staff. Medical and postgraduate students, together with doctors, have the opportunity to take part in seminars and conferences.
The University Hospital is supplied with its own intranet, which is used as an additional learning platform for students.
Classic learning models are combined with the latest technologies and facilities of the Hospital. For example, the department of Anatomy, Histology and Embryology provides the students with the largest and oldest museum in the country, which includes more than 422 samples and serves as a very valuable source with regard to student education.