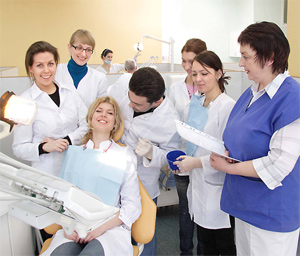 The Faculty of Dentistry was founded in 1922.
The Faculty consists of 5 specialised departments:
Clinical Department of Dental and Maxillary Orthopaedics
Clinical Department of Maxillofacial Surgery
Clinical Department of Dental and Oral Pathology
Clinical Department of Paediatric Odontology
Clinical Department of Orthodontics
Degree in Dentistry
The Faculty has close to 700 students, including many international students.
The language of instruction for international students is English.
The undergraduate degree in Dentistry lasts 5 years, upon completion of which students are awarded the professional qualification of Dental Surgeon.
Total number of ECTS credits: 300.
Postgraduate programmes
Postgraduates are awarded one of the following professional qualifications, depending on their speciality: Endodontologist, Oral Surgeon, Orthodontist, Prosthodontist, Periodontologist or Paediatric Odontologist.
The Faculty has gained international recognition for training professionals and for its achievements in scientific research and clinical practice. The Faculty of Dentistry at the Lithuanian University of Health Sciences offers excellent opportunities to prospective students – not only does it offer the Dental Surgeon qualification, it also provides a high quality education.
Dentistry is a responsible and energetic branch of Medicine with good career prospects.