Lithuania – Facts and Figures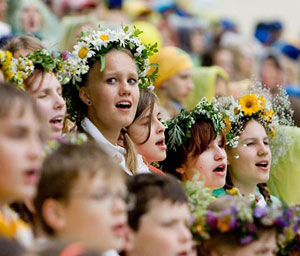 Lithuania is an active member of the European Union (since 1st May 2004) and the North Atlantic Treaty Organisation (since 29th March 2004). Founded over 800 years ago, Lithuania is the oldest Baltic state. In fact, its name appeared for the first time one thousand years ago, in 1009. Located at the dividing line between Western and Eastern civilisations, Lithuania has fought dramatically for its independence and survival. In the Middle Ages (15th century), Lithuania was the largest state in Europe, with a thriving international trade and rich craftsmanship.
In 1579, Vilnius University – an important scientific and education institution – was founded. In the 16th century, Lithuania adopted its First, Second and Third Statutes. These Statutes became the backbone of the country's legislative system and had a major impact on legislation in other European states. Despite losing its independence, Lithuania managed to retain its Third Statute for 250 years, which played an important part in protecting its national identity and citizens rights.
The Polish-Lithuanian Constitution and the French Constitution were the first constitutions in Europe. Both were adopted in 1791, although the Lithuanian-Polish Constitution was adopted a few months before the French Constitution.

Lithuania, a country with a rich history, strong traditions and beautiful landscapes
Ethnic grops:
Lithuanians – 83%
Poles- 7%
Russians – un 6%
Belarusians – 1%
Religion:
Capital: Vilnius
European Capital of Culture 2009
In 1994, the historic centre of Vilnius was included in the UNESCO World Heritage List.
Public holidays:
St. John's Day, 24th June.
Statehood Day, 6th July: Commemorates the Coronation of King Mindaugas in 1253 as the first and last king of Lithuania. The subsequent rulers of Lithuania were referred to as Grand Dukes.
Independence Day, 16th February: Independence from Russia in 1918, in the aftermath of World War I.
Restoration of Independence Day, 11th March.