Country Name: Republic of Cyprus / Democracy Kypriaki / Kibris Cumhuriyeti
Climate: Mediterranean: hot and dry summers
Location: Eastern Mediterranean, 50 km off the coast of Turkey
Area: 9,251 km2. It is the third largest island in the Mediterranean Sea
Capital: Nicosia (South Nicosia: 313,400 inhabitants North Nicosia: 75,000)
Population: 838,897 inhabitants (Republic of Cyprus), of which 179,547 are foreigners
Language: Greek (south), Turkish (north)
System of Government: Republic, presidential democracy
Head of Government: President Nikos Anastasiades (since 28/02/2013)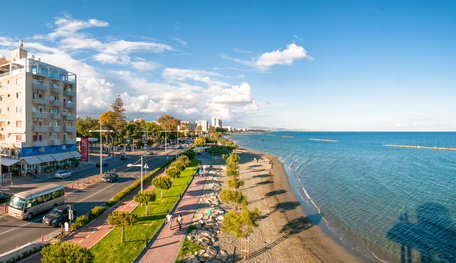 The Republic of Cyprus is located at the meeting point of Europe, Africa and Asia. It is the third most populated island in the Mediterranean Sea and it is also one of the most popular destinations among tourists. Economically, it is also a popular business center and it is a requested point for students from all around the world. Since May 1st, 2004 Cyprus became part of the European Union, and on 1st January, 2008 it is a member state of the Eurozone. Despite its size, Cyprus is a country that welcomes more than 2 million visitors from around the world every year , either as holiday or business guests.
Cyprus offers natural views and luxurious conditions for everyone: a radiant sun that never disappears, sea and transparent waters, white sandy beaches and luxury vacation places. If you are a mountain-lover, do not worry, because in Cyprus you will never miss mountain trails for doing some sports, like  climbing and hiking. Otherwise, you can always enjoy the cities of the island that are full of culture, as well as the small villages, unique to spend  the weekends in.
The country also has an increasingly popular sector on facilities and a first class healthcare system, making the country one of the most important medical destinations in the world.
Cyprus has a Mediterranean climate with long, dry summers, which can be enjoyed from mid-May to mid-October. Its winters are mild and only last from December to February. With regard to spring, it is usually short, but full of natural beauty, due to its breathtaking landscapes and local festivals.
The population has a very European character and they profit from a highly developed infrastructure and an enviable education system. Cyprus has charming, open-minded  and very hospitable people, who will make you feel at home from the very first moment.
Most Cypriots speak English and bring their culture out through their traditional gastronomy, of which they are very proud. Cyprus also offers a high lifestyle and a higher education system to its visitors. In addition, multiculturalism has become the center for business cooperation highly sought after by people from Europe, Middle East, Asia and Africa, and especially on education, economy and medicine.